Dansette Conquest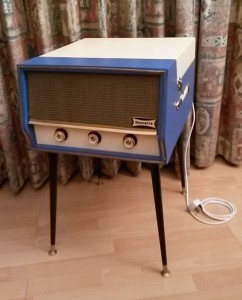 The Conquest is a late 50's model Dansette and featured a slightly larger cabinet that houses two large elliptical loudspeakers for improved bass response. This example has been expertly recovered with new fittings, labels and the optional 15″ legs. These can be removed for table top operation. The BSR UA12 auto-changer turntable fitted is the 4 speed model (16, 33, 45, 78 rpm) and can be used manually or can stack up to  8 records when used in the automatic mode. It still retains its original deck rubber mat which normally harden and perish. It has been cleaned, oiled and adjusted for best operation.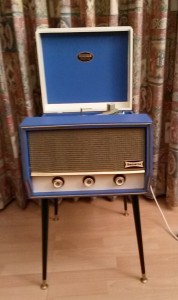 The valve amplifier has been fully overhauled which includes changing all capacitors, out of tolerance resistors replaced and tone/volume controls cleaned. A rear mounted mini jack socket is fitted so phone, mp3 player, tablets can be played through the Dansette. A new mains cable, plug and 3amp fuse is fitted.
A new stereo cartridge is fitted to give the best sound quality with minimum record wear. The original BSR cartridge was the 'flip over' type that only played mono records although the 'flip over' tip has been retained to give the period look.
£499 including a 6 month warranty