Dansette Junior Deluxe
The Dansette Junior range of very compact record players was a response to the 1950s teenager that wanted to play music in their bedrooms. It's small size and low cost was an immediate success with many thousands sold throughout England.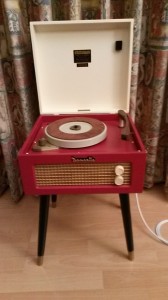 This example has had the cabinet striped, recovered red and white and all external fittings replaced. It also comes with the optional 10″ legs for free standing operation although these can be removed when placed on a table.
The turn table and motor has been cleaned,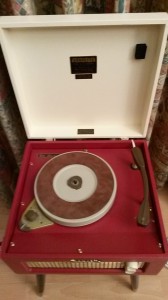 oiled and adjusted (although its so basic there very little to adjust!) and works perfectly. The centre rubber mat has long perished so a custom die-cut suede replacement is fitted.
The amplifier has been fully overhauled but crucially an isolating transformer has been fitted. The reason for this is Dansette at that time employed a 'live chassis' design to save costs (like many manufacturers in the 50's). This featured a 2 core mains cable (with no safety earth) presenting the user to a risk of an electric shock! However, by fitting an isolating transformer all metal parts can be safety earthed and along with a new 3 core mains cable and 3amp fused plug the live chassis is a thing of the past.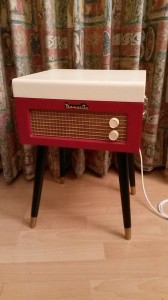 The sound produced by this Junior cannot be described as HiFi although this is more than compensated for by its stunning appearance. A 60 year old Dansette ready for another 60 years?
£SOLD including 6 month warranty