1965 Rock-ola 429 Starlet rat-look
The term 'rat look' has evolved from car customizers where they may take a rusty old car and completely overhaul or customize the engine, interior and wheels. So inside it is shiny and new but on the outside completely original!
Take a look at the video to see it in action :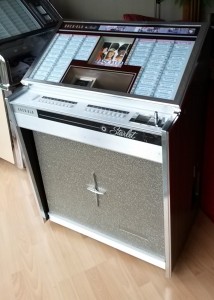 At first sight this little Rock-ola jukebox looks clean yet well used which knowing a little of its history would be the correct observation. It spent a good part of its nearly 50 year existence in a Working Men's club in London where it no doubt worked hard for its living. The rat look begins with the cabinet being striped, degreased, thoroughly cleaned but then reassembled without re-plating, painting or changing the cabinet sides. The cash box door is still missing and the top glass window has its lock drilled out – probably in the search for money or records!
But now the interesting part – in true rat tradition inside the cabinet the mechanism has been removed, the cabinet re-sprayed, all metal catches and fittings plated. Wiring looms, valve amplifier, power supply all fully overhauled. Motors, relays, and all moving parts dismantled, cleaned or replaced. A new cartridge, a pair of high quality Celestion speakers with high frequency tweeters make this Rock-ola jukebox loud yet with better sound quality than when it left the factory. Once the mechanism was rebuilt it was reunited with the cabinet and set up using the factory service manual. The selection button bank was not just cleaned but dismantled into its component parts with each contact individually cleaned so it always makes the right selection!
  It is fitted with an mp3/CD input socket concealed next to the volume control so your phones and tablets can be connected and your music played back through the jukebox. It is set on free play, all tubes/starters replaced, new casters fitted. A lovely, unique compact 60's jukebox ready to play for another 50 years!
Records/plays: 50/100
Size: H128cm (50.5″), W 102cm (40.25″), 62cm (24.5″)
Weight: 111kg (245lb)