AMi Pulse Converter overhaul
This original design by AMi based was based around a pulse stepper so that wall boxes could be connected directly to the jukebox without the need for an additional interface. Unfortunately the mechanical aspects of the design were the weak link and gave the operators of the time a lot of headaches. If the signals from the button bank are not received correctly random or missed selection occurs. Another common problem is the Pulse Converter not finding any selection so the search motor just continuously runs – no music! A repair/fix maybe successfully but usually the problems soon return.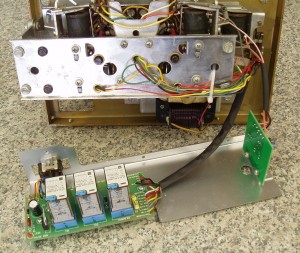 The start of this overhaul focuses on the four control relays which by now are mechanically and electrically expired. A printed circuit board (PCB) replaces them with modern plug in relays. This involves the old relays and wiring loom being removed and the new board fitted and wired. An incoming pulse LED and circuit suppression are also added.
The sprag relay that activates at the correct selection is now powered from the D.C. supply – not through the search wipers as in the original design. This reduces arcing and carbon build up on the search wiper tracks, drastically lowers missed selections and decreases future maintenance.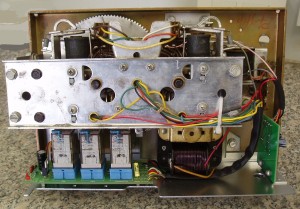 New search wiper blades are fitted where required, motor inspected/oiled/adjusted, letter/number steppers set-up, wiper PCBs degreased and solder joints checked. Additional suppression is included tending to eliminate the typical pops and bangs over the speaker when making selections. Once overhauled it can be reunited to your jukebox with no additional modifications required.
The Pulse Converter you send must be complete and serviceable. It will be returned ready to be installed back into your jukebox and play the selections you want!
For AMi jukebox model G, H, I and J
£240.00 including return postage (UK) and 3 months warranty.
click here for Pulse Converter fitting instructions